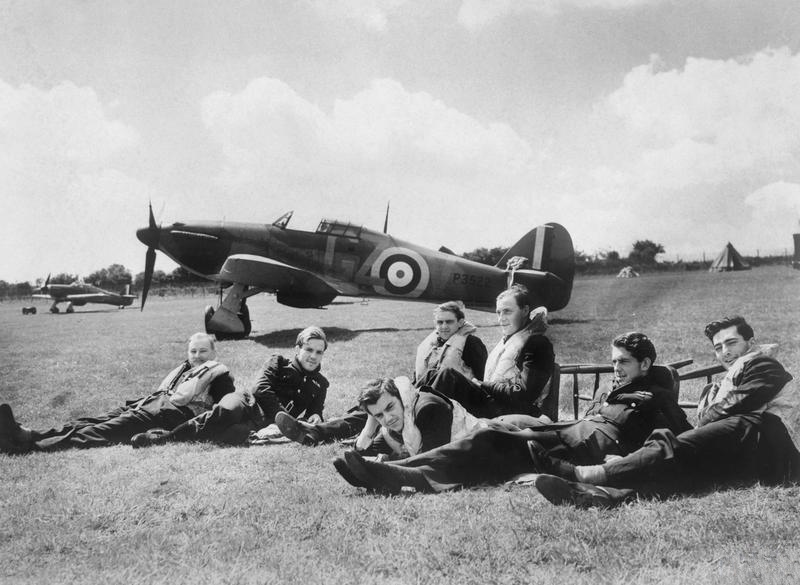 The Supermarine Spitfire is a British single-seat fighter aircraft used by the Royal Air Force and other Allied countries before, during, and after World War II. Many variants of the Spitfire were built, from the Mk 1 to the Rolls-Royce Griffon-engined Mk 24 using several wing configurations and guns. It was the only British fighter produced continuously throughout the war. The Spitfire remains popular among enthusiasts; around 70 remain airworthy, and many more are static exhibits in aviation museums throughout the world.
The Spitfire was designed as a short-range, high-performance interceptor aircraft by R. J. Mitchell, chief designer at Supermarine Aviation Works, which operated as a subsidiary of Vickers-Armstrong from 1928. Mitchell developed the Spitfire's distinctive elliptical wing (designed by Beverley Shenstone) with innovative sunken rivets to have the thinnest possible cross-section, achieving a potential top speed greater than that of several contemporary fighter aircraft, including the Hawker Hurricane. Mitchell continued to refine the design until his death in 1937, whereupon his colleague Joseph Smith took over as chief designer, overseeing the Spitfire's development through many variants.
During the Battle of Britain (July–October 1940), the public perceived the Spitfire to be the main RAF fighter; however, the more numerous Hurricane shouldered more of the burden of resisting the Luftwaffe. Nevertheless, the Spitfire was a better fighter aircraft than the Hurricane. Spitfire units had a lower attrition rate and a higher victory-to-loss ratio than those flying Hurricanes, probably because of the Spitfire's higher performance metrics. During the battle, Spitfires generally engaged Luftwaffe fighters—mainly Messerschmitt Bf 109E-series aircraft, which were a close match for them.
After the Battle of Britain, the Spitfire superseded the Hurricane as the principal aircraft of RAF Fighter Command, and it was used in the European, Mediterranean, Pacific, and Southeast Asian theatres. Much loved by its pilots, the Spitfire operated in several roles, including interceptor, photo-reconnaissance, fighter-bomber, and trainer, and it continued to do so until the 1950s. The Seafire was an aircraft carrier–based adaptation of the Spitfire, used in the Fleet Air Arm from 1942 until the mid-1950s. The original airframe was designed to be powered by a Rolls-Royce Merlin engine producing 1,030 hp (768 kW). It was strong enough and adaptable enough to use increasingly powerful Merlins, and in later marks, Rolls-Royce Griffon engines producing up to 2,340 hp (1,745 kW). As a result, the Spitfire's performance and capabilities improved over the course of its service life.
THE BATTLE OF BRITAIN 1940 (HU 54418) Pilots of 'B' Flight, No. 32 Squadron relax on the grass at Hawkinge in front of Hurricane Mk I P3522, GZ-V.
From left to right: Pilot Officer R F Smythe; Pilot Officer K R Gillman; Pilot Officer J E Proctor; Flight Lieutenant P M Brothers; Pilot Officer D H Grice; Pilot Officer P M Gardner and Pilot Officer A F Eckford. All survived the war except Keith Gillman who was posted missing 25 August 1… Copyright: © IWM. Original Source: http://www.iwm.org.uk/collections/item/object/205059622